Indoor Air Quality Services in Columbus, OH
---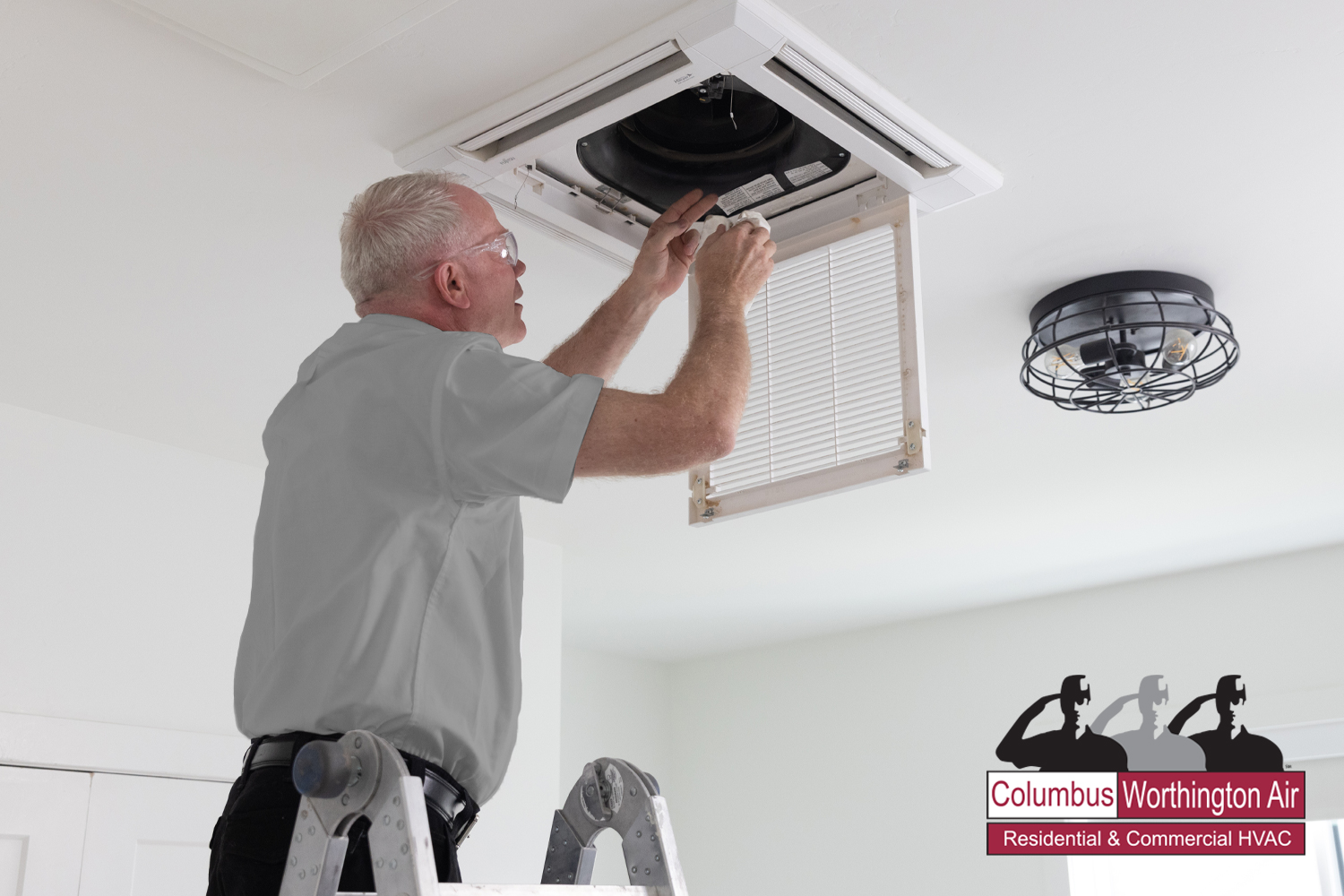 Indoor Air Quality Solutions
If you're a Columbus, OH resident concerned about the indoor air quality of your home, Columbus Worthington Air has the solutions to ease your worries. Though an unknown fact to many, indoor air is said to be anywhere from two to five times as polluted as outdoor air. Indoor air pollution cannot only reduce the overall comfort levels within your home, but it can also have a considerable effect on your overall health by triggering asthma, allergies, and more severe side effects over time. With Columbus Worthington Air, there are many options for air purification in your home. These Air Filters & Treatment Systems include media filter, electronic air cleaners, ultraviolet, and "whole house" HEPA air treatment systems. Depending on the type of air purification system you choose, you can kill up to 99.9% of the bacterial and fungal particles passing through your systems.
When you could safeguard your home from potentially dangerous chemical and biological contaminants, why wouldn't you?
Signs You May Need to Improve Your Home's Indoor Air Quality
There are many indications that you may need to improve your indoor air quality. Some of the most common signs that you may benefit from indoor air quality services include:
Humidity Issues – Humidity levels that are too high or low can have adverse effects on your home and health. Low humidity can cause dry skin and eyes, static electricity, or an increased risk of colds and infections.
HVAC Inefficiency – Faulty HVAC systems don't properly filter particles from the air, keep humidity at a comfortable level, or maintain a consistent temperature. All of these issues can result in complete system failure and deficient indoor air quality.
Uneven Temperatures – Different temperatures from room-to-room indicate that your AC may not be reaching all areas of your home equally.
Excessive Dust – This is a sign that your HVAC system isn't trapping particles in the air properly, which can lead to issues like dust mites. Replacing your system's air filter can significantly help with dust buildup.
Stale or Foul Odors – This is a sign of inadequate ventilation, which means that your home isn't cycling air the way it should, contributing to odors hanging around in the air for too long.
Respiratory Conditions – Your health can suffer from bad indoor air quality, resulting in chronic coughing, sneezing, headaches, congestion, and more.
Keeping your HVAC system well maintained is an excellent way to ensure your indoor air quality is kept at safe levels. Don't neglect your system and put yourself and your family at risk of more severe consequences. If you have any questions on how to safeguard your home's system, reach out to our team of trained professionals today!
Indoor Air Quality Maintenance and Products
What type of filter do you use currently for your heating system and cooling system? If it's the basic air filter that you get at your local hardware store, it may be doing a good job, but it's only capable of removing a small percentage of particles that pass through it. If you want to minimize the number of particles that are circulating through your HVAC system, we can recommend several types of permanent air filters available in various efficiencies that can help you filter the air in your home. We can also install whole-house humidifiers or dehumidifiers to bring the humidity to a comfortable level in your home, no matter what the temperature and humidity are like outdoors.
The indoor air quality products we offer to help rid your home of harmful contaminants include:
If you suffer from allergies, asthma, hay fever or other breathing difficulties, electronic air cleaners, as well as some of our other indoor air quality products, can help.
Get Started with Columbus Worthington Air
At Columbus Worthington Air, our fully trained and licensed technicians are knowledgeable, experienced, and work tirelessly to ensure your indoor air quality is up to par. Don't rely on any service and installation company in Columbus, OH, for indoor air quality services. Protect yourself and your family by relying on our team of seasoned professionals to safeguard your home from indoor air pollutants. To find out more about the exceptional indoor air quality products we offer, contact our local HVAC technicians today at 614-405-7819. We can't wait to schedule an in-home consultation with you to find the right system to meet your home's needs.
Request an Appointment
All appointments will be confirmed by phone. Same day appointments not accepted via internet. For emergency service please call 614-405-7819.
NOTE: By submitting this form, your email address may be used for future marketing purposes from Columbus Worthington Air; however, your email address will never be sold to a third party. For more details, view our Privacy Policy.