Humidifiers
---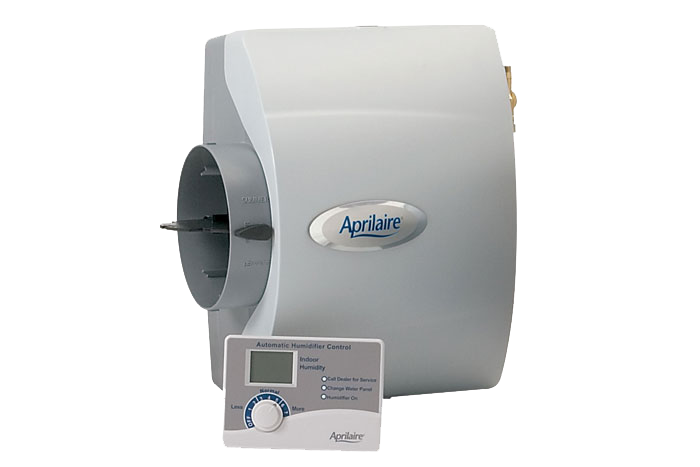 A lack of humidity in your home can hurt not only your body, causing itchy skin and sore throats, but it can also damage things in your home, such as furniture, wood floors, painted walls, trim and molding. Don't go through another season with these problems when Columbus Worthington offers a solution – a whole home humidifier from Aprilaire offering fully automatic and digital humidifier control which is easy to use.
Humidifier Models: 600, 700
Why Do We Need Humidifiers?
Humidifiers play an important role in keeping the proper amount of humidity in the air which is required for healthy living. Dry air can damage family health and home.
To control the health problems which arise from low humidity.
Dry air can cause many health problems such as cold and flu, dry skin, coughing, bronchitis, bloody noses, sore throats. To minimize or avoid all these health issues, we need a humidifier system which gives the perfect amount of moisture to the entire home.
To minimize home damage cost.
Low humidity in the air can damage your home furniture, wooden musical instruments, wall interior. Humidifiers protect your home from all these damages and eliminate unwanted expenditure.
Sara, I realize this top part of the page was existing content, but there were quite a few basic spelling/grammar errors. Do your writers comb through these articles before they add their edits? If not, could you please ask them to? Thank you!
Humidifier Buying Guide
Selection of right size You should choose the right size of humidifiers according to the area of your home. As for small or medium rooms, you can shop small or table top humidifiers and vice versa. To determine the size of humidifiers, you should measure the square footage of your room.
Easy maintenanceWhile shopping for humidifiers, always look for the one which is easy to disassemble and clean, as well as antibacterial features such as a silver-ion filter. Frequently cleaning is the key not only to maintain humidifiers properly but also to ensure indoor air quality .
Ease of UseHumidifiers should have user-friendly controls which are comfortable to use, adjust & clearly display the humidity levels and the settings. An automatic and digital humidifier controller are also the best option which automatically adjust the humidity according to room temperature.
The Importance of Whole Home Humidifiers in Columbus
Columbus experiences typically low humidity levels, especially during the winter months when temperatures can drop as low as 30 degrees Fahrenheit. This means having a whole home humidifier can provide you with numerous benefits. Your home's heating system dries out the air indoors, leading to dry skin, scratchy throats and respiratory issues. Installing one of these units helps maintain a healthier level of humidity, reducing the risk of these issues.
During the summer months when temperatures can reach as high as 75 F, humidity levels still can fluctuate. Having a whole house humidifier can keep the air feeling fresh and comfortable no matter what the conditions are like outside. Because they introduce more moisture into the air, they also help protect wooden furniture and woodwork.
Frequently Asked Questions About Whole Home Humidifiers
Why is it important to have a whole house humidifier house humidifier myself?
We strongly advise against attempting to install a humidifier yourself. If you make any mistakes, it could lead to inefficient operation and costly damages to your system.
How can Columbus Worthington Air help with whole home humidifier installation?
We have a team of experienced technicians who can assess your home's humidity levels and recommend the right equipment for your needs. They also install the unit to ensure the highest levels of performance.
What are the benefits of a whole home humidifier over a portable unit?
A whole home humidifier provides consistent humidity levels throughout your home. A portable unit has a much more limited range, and it also requires a lot more maintenance and is less energy efficient.
How often do I need to replace the water panel in my whole home humidifier?
We recommend replacing your water panel at least once a year for optimal performance.
How does a whole home humidifier affect energy usage?
Even though it draws power, a whole home humidifier can help lower your overall energy consumption because it allows you to keep your thermostat at a lower temperature while still maintaining your comfort levels.
Can you provide an estimate for whole home humidifier installation costs?
Of course — we can give you an estimate for your whole home humidifier installation. Bear in mind that costs can vary a lot based on factors such as the size of your home and the specific unit you choose.
How long does whole home humidifier installation typically take?
The entire process can take anywhere from several hours to a few days, depending on the complexity of the work and any necessary ductwork or electrical work.
What sets Columbus Worthington Air apart from other HVAC companies for whole home humidifier services?
We prioritize customer satisfaction and deliver the highest levels of service and quality products. Our goal is to keep your home comfortable all year long, and our professionals are committed to providing prompt and reliable service. You'll also experience competitive pricing and financing options to fit your budget. We're also your complete source for humidifier repair, ongoing maintenance and support to keep your equipment running at its best. Get in touch with us today to learn more about these and all other HVAC accessories we have to offer. Find out today what makes us the leading humidifier installers in the region.
We have shared some humidifier buying tips to help you to select your most preferred humidifiers for your home. Want to know more about humidifiers? Contact us today to get solutions to all your HVAC related queries. We are here 24/7 to help you.
Request an Appointment
All appointments will be confirmed by phone. Same day appointments not accepted via internet. For emergency service please call 614-405-7819.
NOTE: By submitting this form, your email address may be used for future marketing purposes from Columbus Worthington Air; however, your email address will never be sold to a third party. For more details, view our Privacy Policy.