Heating System Installation
---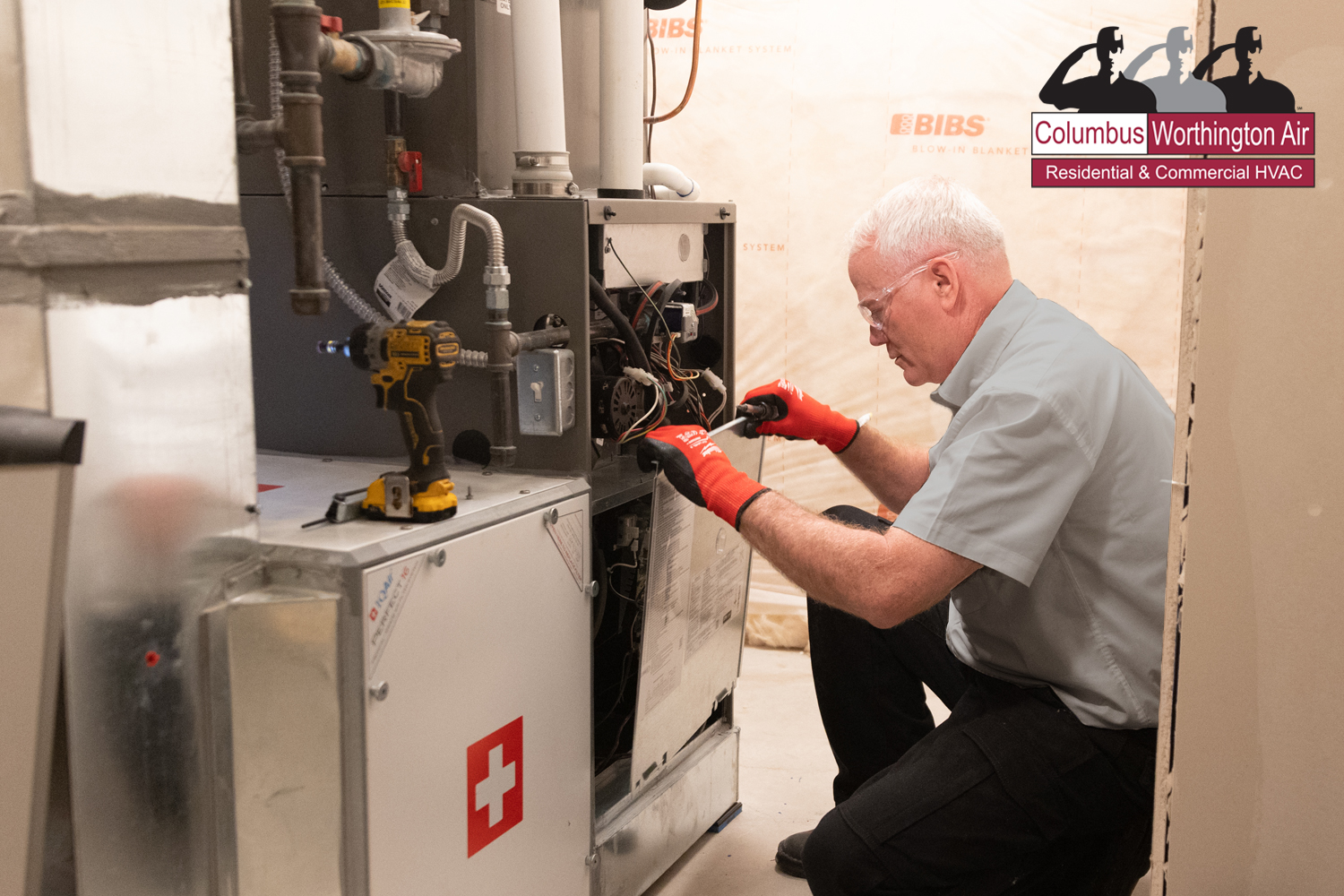 For HVAC Installation, Call Columbus Worthington Air
If you think you might need a new heating system, look no further than the experts at Columbus Worthington Air. We've been your choice for furnace installation in Columbus since 1963. We serve Columbus and the surrounding area, helping homeowners throughout the area replace their furnace or install a heat pump. We're fully licensed, bonded and insured, and you can count on us to provide equipment from the top brands in the industry that offer energy efficiency and long lifespans. If you believe it's time for comprehensive furnace replacement service in your home, get in touch with us today for a free estimate.
Let Us Install Your New Heating System
When you call us for your new heating system installation, we help you take advantage of all the latest advances in heating technology. Today's HVAC equipment is designed to be more energy efficient, offer greater control options and feature alternative heat sources. If you've had the same furnace in your home for more than 10 years, there's a good chance that you could benefit from our heating installation services.
We're a reputable local furnace replacement company offering free estimates on all types of heating system installations and our exceptional service guarantee. We'll always go above and beyond to exceed your expectations. As an award-winning service and installation provider for Bryant, you can be sure we meet the manufacturer's stringent quality standards.
Tips to Maintain Your Heating Unit
You owe it to yourself and your family to keep your home's heating system in good working order for as long as possible. The best way to ensure this is to contact our experts to ask about our annual maintenance programs, but there also are some things you can do on a regular basis to keep your HVAC systems running as smoothly as possible for as long as they can. These include:
Clean or replace your filter
Inspect the blower for dirt and dust
Make sure all vents are unobstructed
Keep the exhaust flue outside clear
Clean vents and ducts
The Warning Signs Your Furnace May Need Replacing
No heating system, no matter how well maintained, will last forever. If yours is on its way out, there may be some telltale signs that will let you know in advance that you need to contact an experienced new furnace installer soon. Even if your unit is still operating while displaying these signs, you will want to make sure it will continue to do so when you need it the most. This is why contacting Columbus Worthington Air's expert technicians for a full home heating inspection is always a good idea. Watch out for these indicators of an aging or malfunctioning system and call us for a complete assessment:
Old age: Furnaces typically last for about 15 years before they break down. If yours is more than 10 years old, it's more than likely time to start looking at a replacement.
Higher bills: Heating systems nearing the end of their lives tend to become less energy-efficient. This means you could be seeing utility bills that are much higher than you're used to receiving.
Thermostat issues: Constantly adjusting your thermostat could mean your heating system isn't distributing heat through your home as well as it should.
Safety: Aging furnaces could be allowing dangerous carbon monoxide to leak into your home. This is why you should make sure you have detectors installed throughout your house and call us as soon as you have any concerns.
Call Us for a Free Estimate for Your New Heating System
If you're in need of a new furnace or other heating equipment, then call Columbus Worthington Air today. We're dedicated to providing our customers with the absolute best in service and scheduling appointments around their schedules. We also provide a guarantee on all parts and labor. We have a legion of satisfied customers who can speak to the quality of our work. Get in touch with us today to schedule a free estimate.
Request an Appointment
All appointments will be confirmed by phone. Same day appointments not accepted via the internet. For emergency service please call 614-902-3358.
NOTE: By submitting this form, your email address may be used for future marketing purposes from Columbus Worthington Air; however, your email address will never be sold to a third party. For more details, view our Privacy Policy.