Columbus Air Conditioning Installation Service
---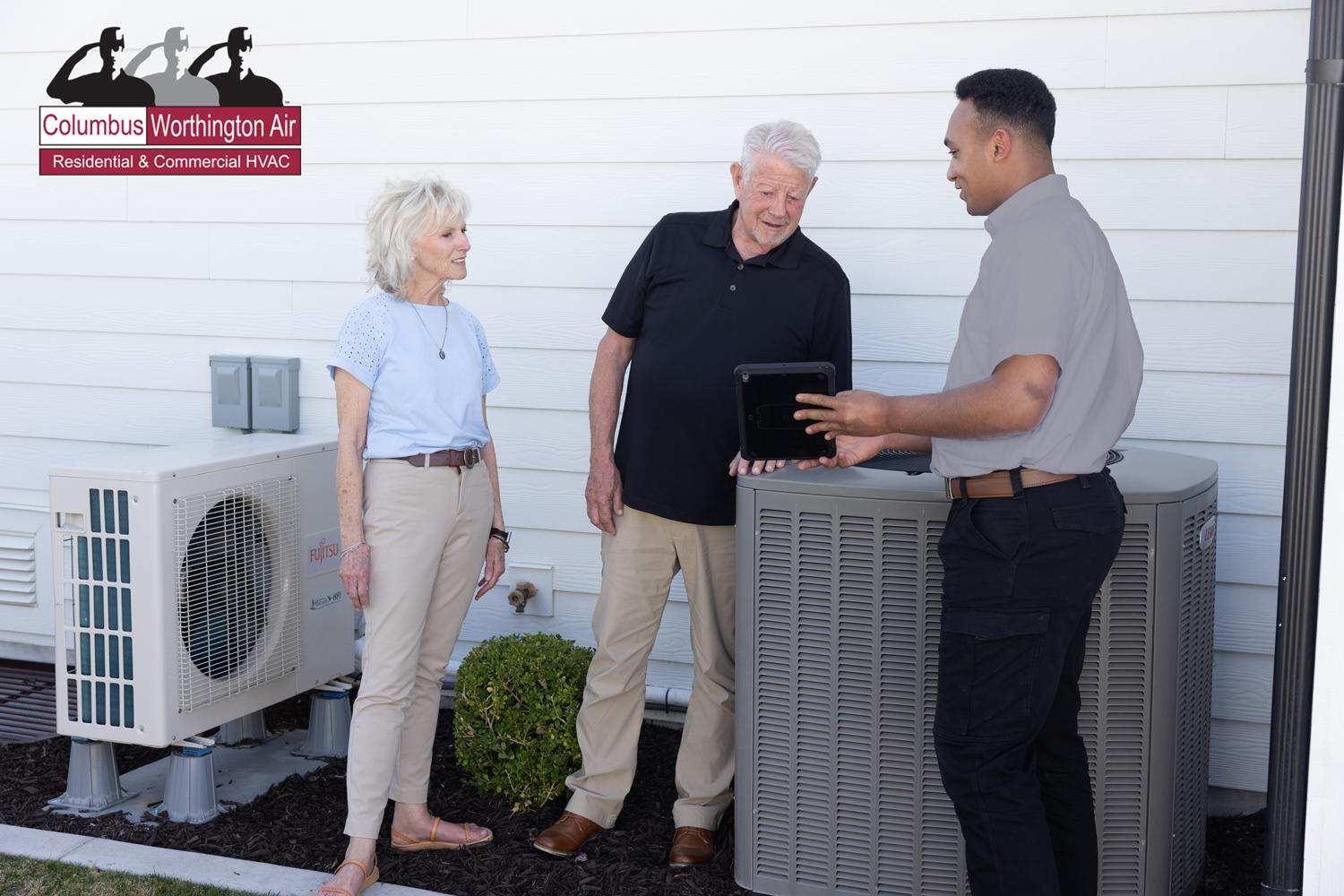 614-405-7819
AC Replacement in Columbus, OH
Is your air conditioner on its last legs? Perhaps you've seen the newest AC units at your local home improvement store and want to take advantage of innovative technology. Whatever the case for you, Columbus Worthington Air can take care of all your installation and replacement needs. With decades of experience under our belt, we can expertly replace and install air conditioners in a fraction of the time. We're proud to provide air conditioner installation in Columbus, OH, and the greater Central Ohio community with top-notch workmanship and customer service.
When Should You Replace Your System?
AC replacement shouldn't be the first thing you do when you notice a problem, but it's a good idea to know the signs that it's time for a new air conditioner. At Columbus Worthington Air, we're happy to evaluate your system and give reliable recommendations for whether a replacement or repair is in order. In general, you should consider air conditioning replacement in the following cases:
Increasing Bills: If you notice unexplained spikes in your energy bills, it could mean a problem with your air conditioner. Over time, AC units become less effective and need more energy to adequately cool your space.
Constant Repairs: Repairs can quickly become expensive. If you find yourself spending more on repairs than the cost of a new unit, we encourage you to opt for replacement.
Uneven Cooling: Your air conditioner should cool all areas of your home equally. If that isn't the case, or your unit is blowing warm or has no air, talk to us about a replacement unit.
Age: Just like any other appliance, your air conditioner will wear out over time. In most cases, you can expect your system to last about 15 years. If it's older than that, we welcome you to take advantage of our air conditioner installation service.
Benefits of Air Conditioning Installation
The main benefit of installing a new AC is the cool air you'll get to enjoy as temperatures increase. But cool, comfortable temperatures aren't the only way you can benefit from a premier air conditioning replacement service. Our customers also enjoy the following advantages:
Increased comfort inside your home
Enhanced energy efficiency
Quieter operation
Lower energy bills
Reduced need for repairs
Advanced technology and innovative features
Find Out More About Our Services
At Columbus Worthington Air, we provide an array of services beyond run-of-the-mill installation. As an all-inclusive AC installation contractor, we're also here for you when you need maintenance. We encourage all customers to schedule tune-ups at least once a year to ensure the continued function of your unit. Our team is also equipped to perform an array of indoor air quality services, as well as install HVAC accessories. No matter your need, rest assured we have you covered.
Why Columbus Chooses Us
Why do so many Columbus residents trust us over other AC installation companies? Decades of experience, thousands of happy customers, and top-notch service. Over our years in business, we've serviced over 50,000 homes and countless other businesses in the area. Not only do we strive for comprehensive, speedy services, but we also remain dedicated to quality. Our parts and labor come with a guarantee, and we'll be sure to provide you with an estimate before work ever begins. We're with you every step of the way, beginning with selecting a new AC unit and choosing a financing option, and continuing through the life of your unit with outstanding maintenance. Don't trust just any AC replacement company—opt for one that has your best interests in mind!
Reach Out to Our Team Today
Your air conditioner is a crucial part of your home. In the event of a malfunction, look to the team at Columbus Worthington Air. We can perform repairs and maintenance, but we're also here to help you choose a brand-new unit when necessary. We have home AC installation down to a science, and our team is committed to making your home as comfortable as possible with cool, relaxing air. Reach out to us at the first sign of trouble, and we'd be glad to evaluate your system and offer an accurate estimate. Contact us today to get started.
Request an Appointment
All appointments will be confirmed by phone. Same day appointments not accepted via internet. For emergency service please call 614-405-7819.
NOTE: By submitting this form, your email address may be used for future marketing purposes from Columbus Worthington Air; however, your email address will never be sold to a third party. For more details, view our Privacy Policy.