Thermostats
---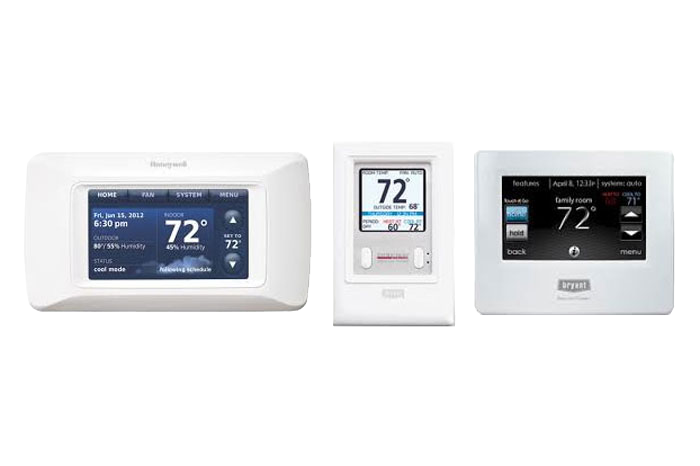 We Provide Reliable Thermostats
We know you want to control the climate in your home. The best way is with a thermostat from Columbus Worthington Air (CWA), servicing Columbus, OH. We are proud to address your residential heating and cooling needs to help maintain your comfort throughout the year. With a reliable thermostat from CWA, you will surely have the climate-controlled environment you need to combat the temperatures outside.
Honeywell and Bryant thermostats
Thermostat Installation Services
If you are looking for air conditioner thermostats, heat pump thermostats, furnace thermostats, or WiFi thermostats, Columbus/Worthington Air has you covered. We offer many electronic thermostats of varying manufacturers; all are programmable and easy to install. Some of our WiFi capable options include:
Honeywell Programmable
Bryant Evolution
Understanding the Importance of Thermostats
While your HVAC unit is the workhorse of the operation, the thermostat regulates the temperature in your home. A reliable thermostat provides the perfect amount of heat during the winter and keeps your home comfortably cool in the summer. Columbus Worthington Air offers multiple thermostat solutions for our customers in and around Columbus.
We Offer Various Types of Thermostats
You have a wide variety of thermostats from which to choose. The most popular are programmable thermostats. These innovative options allow you to set your temperature from your mobile devices or even schedule times to alter your system's output based on the time of day or weather. If you need an air conditioner thermostat, heat pump thermostat, or furnace thermostat, we can help. Ask us about our easy-to-install WiFi thermostats from manufacturers such as Honeywell and Bryant.
Warning Signs You Need to Replace Your Thermostat
If you are typically comfortable inside your home, you may not notice that your thermostat needs to be replaced. However, there are subtle signs that your thermostat may be faltering. These include:
Inconsistent temperatures
Higher than-average energy costs
A system that turns off and on frequently
Incorrect temperature readings
The Benefits of Thermostat Systems
Columbus Worthington Air recommends upgrading to a smart thermostat for many reasons. Most importantly, we want you to be comfortable in your home. There are several advantages to installing a new thermostat, such as:
Energy Efficiency – You can avoid wasting energy with a programmable thermostat that works in specific cycles.
Enhanced Comfort – If your thermostat operates optimally, you will always remain comfortable.
Improved Operation – A new thermostat will function better and provide more accurate temperature readings than an older model.
Contact Columbus Worthington Air Today
Columbus Worthington Air has been a leader in the heating and cooling industry in Columbus, OH, for nearly 85 years. We provide our customers with state-of-the-art equipment and services to maintain comfort in their homes. Contact us today to learn more about the thermostats we offer as well as our installation services.
Columbus Worthington Air Answers Customers' Most Frequently Asked Thermostat Questions
How do you tell if the thermostat is working right?
Consistently comfortable temperatures and reasonably priced utility bills indicate the thermostat is functioning correctly. If you notice skyrocketing energy bills or experience uneven cooling or heating in your home, contact the experts at Columbus Worthington Air to check out your thermostat today.
Can you explain the benefits of smart thermostats?
The three main benefits of a digital thermostat are:
Better control over the temperature of your house
It helps reduce energy bills
The device learns your heating and cooling preferences for better comfort
How do you compare smart thermostats with ordinary thermostats?
Use a conventional thermostat to raise or lower the temperature manually. With a remote-controlled smart thermostat, the device learns your heating and cooling habits, helping you save on power bills.
Should a homeowner install their thermostat on their own?
Installation can be challenging and dangerous if you aren't certified and trained in electrical work. We recommend hiring a licensed technician trained in smart thermostat installation service to complete your installation – this ensures the job is done efficiently and safely.
How does a smart thermostat work?
You can activate and adjust a smart thermostat remotely using a computer, laptop, tablet, or smartphone. Over time, the smart thermostat learns your temperature preferences and will make changes independently.
Is a smart thermostat the right choice for my family?
Busy families prefer a smart thermostat because it helps them control the temperature in their homes when they are away at work, running errands, or on vacation.
Can you explain the benefits of working with professional installers for my new thermostat?
With a professional thermostat installer, you can rest assured that the job will go safely, smoothly, and efficiently. Having a professional complete the job will also prevent you from voiding any warranties the equipment manufacturer may provide.
What are the main things to consider before picking out a home thermostat?
Features (such as programmability)
Lifestyle and temperature preferences
Budget
What is the cost of installing a new thermostat?
Columbus Worthington Air professionals will give you a customized estimate for installing a new thermostat in your home. Costs vary according to how complex the HVAC system is and how much installation work is involved.
How will a smart thermostat save my family money on power bills?
A smart thermostat allows you to set the device to change the temperature automatically even when you are not there. It also learns your habits to reduce utility bills thanks to more efficient usage.
How long should we expect the thermostat to operate?
You can anticipate a new thermostat providing reliable service for the foreseeable future. If problems arise or the device is a decade or older, you may need to consider a replacement.
Will a smart thermostat help my family "go green"?
A smart thermostat can significantly impact lowering your carbon footprint because it lets you keep your home cooler in summer and warmer in winter with less energy.
Can I use voice prompts to control a smart thermostat?
Several smart thermostats connect with voice command systems, including Google Assistant and Amazon Alexa.
Will one of your experts assist me in selecting the most appropriate thermostat?
A thermostat services expert from Columbus Worthington Air will help you pick the best thermostat for your home, according to your family's heating and cooling preferences and requirements.
Request an Appointment
All appointments will be confirmed by phone. Same day appointments not accepted via internet. For emergency service please call 614-771-7001.
NOTE: By submitting this form, your email address may be used for future marketing purposes from Columbus Worthington Air; however, your email address will never be sold to a third party. For more details, view our Privacy Policy.