Nest Thermostat Sales & Service
---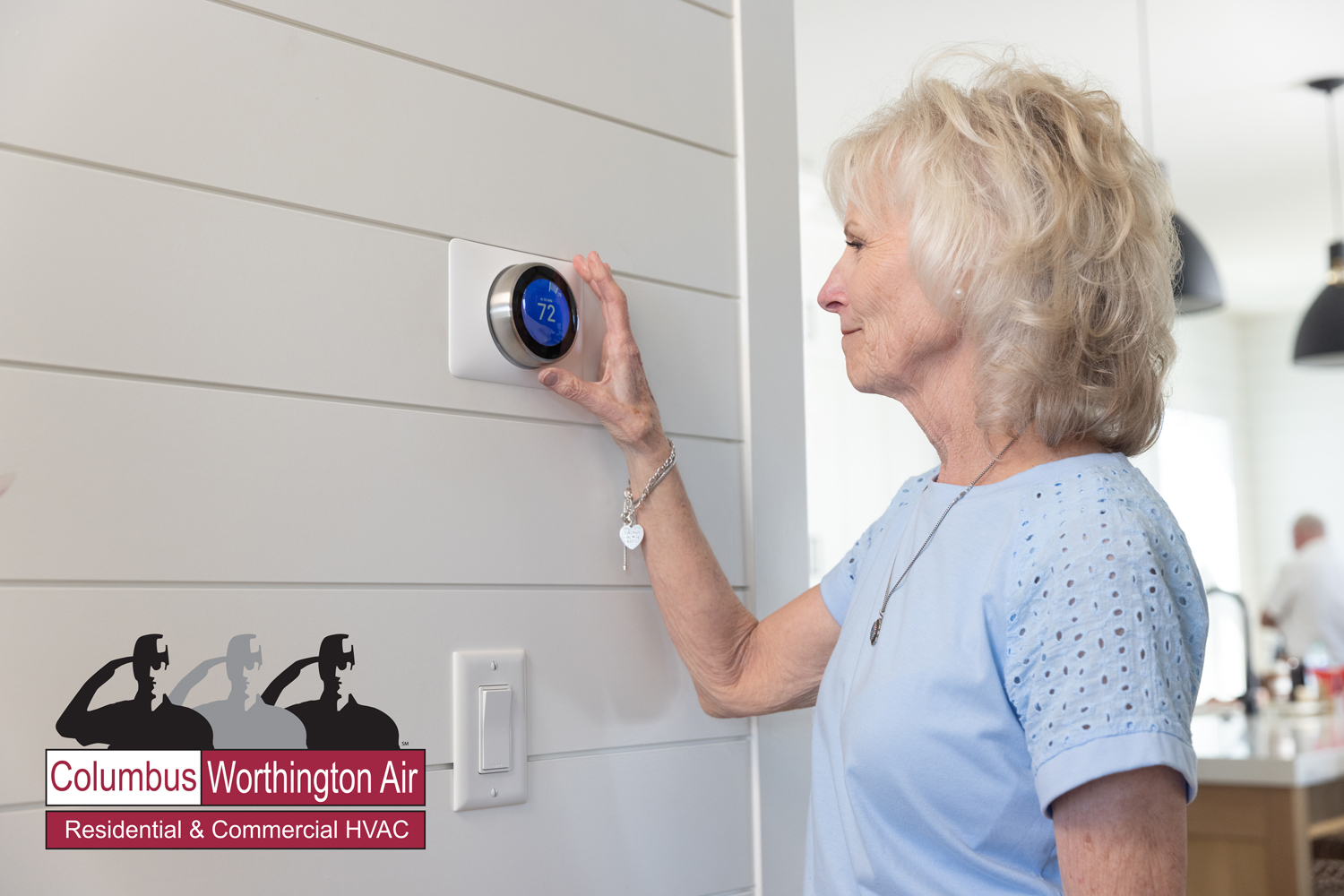 Nest Learning Thermostat – a Smarter Way to Save!
The Nest Learning Thermostat learns what temperatures you like, turns itself down when you're away and connects to your phone. It has a big, sharp display. And it's proven to help save energy. In independent studies, the Nest Thermostat saved an average of 10% to 12% on heating bills and 15% on cooling bills. Ask how you can get your Free Nest Thermostat today! Columbus Worthington Air is your complete source for Nest Thermostat installation. Our experts will handle every aspect of installing your new Nest Thermostat, from wiring to final setup. Our expertise with smart thermostats means we can help you get the most out of your new Nest Thermostat E or other model.
Get A Free Nest Thermostat With Select Heating And Cooling Systems!
The purchase & installation of 15 SEER or higher heating & cooling systems is required. New system must be compatible with the Nest thermostat. Ask service center for details.
How Does It Work?
Auto-Schedule – No more confusing programming. It learns the temperatures you like and programs itself.
Remote Control – Connect the Nest Thermostat to Wi-Fi to change the temperature from your phone, tablet or laptop.
Nest Leaf – You'll see the Leaf when you choose a temperature that saves energy. It guides you in the right direction.
Early-On – Nest learns how your home warms up and keeps an eye on the weather to get you the temperature you want when you want it.
Home/ Away Assist – The Nest Thermostat automatically turns itself down when you're away to avoid heating or cooling an empty home.
Energy History – See when heating and cooling were on and what affected your energy use.
Safety Temperature Alerts – Get an alert on your phone or tablet if your home gets dangerously hot or cold.
Farsight – When the Nest Thermostat spots you across the room, it lights up beautifully to show you the time, temperature or weather.
Features
Auto-Schedule • Home/Away Assist • Energy History • Home Report • Nest Leaf • Nest app • Farsight • Airwave • System Match: Early-On, Heat Pump Balance, True Radiant • Time-to-Temperature • Weather aware • Advanced Fan Control • Sunblock • Cool to Dry • Thermostat Lock • Software updates over Wi-Fi • Safety Temperature Alert • Furnace Heads-Up • Filter Reminder • System Test • Stainless steel ring
Compatibility
The Nest Learning Thermostat works with 95% of 24V heating and cooling systems, including gas, electric, forced air, heat pump, radiant, oil, hot water, solar and geothermal.
Heating: 1, 2 and 3 stages (W1, W2, W3) – Cooling: 1 and 2 stages (Y1, Y2) – Heat pump: with auxiliary and emergency heat (O/B, AUX, E)
Humidifier or dehumidifier (HUM, DEHUM) – Fan (G) – Power (C, RH, RC)
Request an Appointment
All appointments will be confirmed by phone. Same day appointments not accepted via internet. For emergency service, please call 614-771-7001. Get in touch with us today to schedule your Nest Thermostat installation service.
NOTE: By submitting this form, your email address may be used for future marketing purposes from Columbus Worthington Air; however, your email address will never be sold to a third party. For more details, view our Privacy Policy.