Energy Recovery Ventilator
---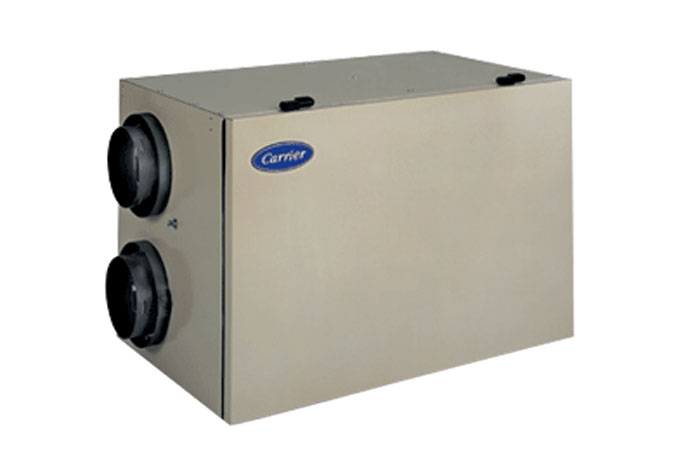 Energy Recovery Ventilator
Energy recovery ventilation (ERV) is a process that removes your contaminated indoor air and replaces it with fresh air, while keeping your temperature level the same. It is a highly beneficial process that keeps the air in your home healthier.
Indoor Air Quality and Energy Savings With ERVs
Because energy recovery ventilators (ERVs) are designed to provide fresh air and reduce the amount of energy used to cool or heat a home, they can make a great addition to Columbus homeowners' HVAC systems. With the extreme temperatures residents experience during the summer and winter, these units work well to help fight the temperature swings. Unlike a heat recovery ventilator (HRV), ERVs work to control indoor humidity as well as temperature. This makes an ERV the better choice over an HRV for HVAC systems.
For example, during the hot and humid summer months an ERV can bring fresh air into your space and expel the stale air. It can do this without compromising the energy efficiency of your air conditioning system, as well. Because it removes excessive moisture from the air, an ERV also helps combat mold and mildew growth while making the air more comfortable.
In the winter, an ERV can recover heat from the stale air being exhausted, transferring it to the fresh air coming into the room. This reduces the amount of energy you'll need to heat the air, keeping your utility bills low and improving your air quality.
These qualities and more make these units a good investment if you live in Columbus. You'll enjoy a more comfortable living space while cutting down on energy costs and maintaining healthier air. Our experts can help you find the equipment that best suits your needs, so call us today.
Frequently Asked Questions
What is an Energy Recovery Ventilator?
This is a type of ventilation system that transfers heat and humidity between incoming and outgoing air streams, providing users with a number of benefits.
What are the benefits of having an ERV?
The benefits of having an ERV include improved air quality, lower utility bills, and increased comfort and health for the occupants of your property.
How does an ERV improve indoor air quality?
Having an ERV improves your indoor air quality by removing particulates and moisture from the air while circulating in fresh air from the outside.
How does an ERV reduce my energy costs?
By transferring heat and humidity out of your space, an ERV helps maintain a more consistent indoor temperature and reduces the amount of work your HVAC system has to do. This means you won't need to use your heating or cooling as often.
Why is it important to work with experts for ERV installation?
These units are sophisticated and require a certain set of skills to install and maintain them. Our technicians come equipped with everything they need to ensure your system is fully optimized. As an experienced ERV company, we can install and repair your system to ensure it operates as effectively and efficiently as possible.
What are the risks of DIY ERV installation?
If your unit is improperly installed, it can lead to reduced performance, increased energy costs and potential safety hazards. This is why you should trust us to handle everything for you.
What is involved in the ERV installation process?
Typically, the process includes a site evaluation, system design, equipment selection, installation and commissioning.
What factors should be considered when selecting an ERV system?
When selecting your system, you should think about the size and type of space you have, the climate in your area, and your desired indoor air quality and comfort levels.
How can ERV installation services save money in the long run?
Having your system professionally installed by our experts ensures you'll have an ERV that is properly designed and configured to provide the highest levels of efficiency and effectiveness. You'll have the peace of mind that comes with knowing you're in good hands and avoid costly repairs.
How much does ERV installation cost?
How much you'll spend on your installation depends on the size of your property, the type of system and the complexity of the process. We can provide you with a detailed, customized quote so you will know exactly what it will cost you.
How long does it take to install an ERV?
It varies based on the size and complexity of the system you choose, as well as the building's specific requirements. We make sure your job will be completed as efficiently as possible.
Can an ERV be integrated with an existing HVAC system?
Yes, we can make sure your new ERV fits right into your existing HVAC to provide the maximum benefits.
How often does an ERV need to be serviced?
We recommend having your system serviced at least once a year to ensure it continues to work as well as it should and extend its lifespan.
Request an Appointment
All appointments will be confirmed by phone. Same day appointments not accepted via internet. For emergency service please call 614-405-7819.
NOTE: By submitting this form, your email address may be used for future marketing purposes from Columbus Worthington Air; however, your email address will never be sold to a third party. For more details, view our Privacy Policy.