Electronic Air Cleaners
---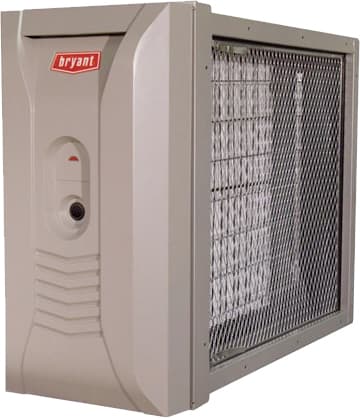 Electronic Air Cleaner Installation
Did you know the air in your home can actually be unhealthier to breathe than the air outside? Air cleaners contain technology that removes dangerous bacteria, viruses, pollen and mold from the air you breathe in your home. Call Columbus/Worthington Air today to learn more about our available air cleaning services, and start breathing healthier tomorrow.
Improving Indoor Air Quality in Columbus
An electronic air cleaner can be a good thing for Columbus homeowners to have, given the extreme weather conditions you may experience. The hot summers and cold winters mean HVAC systems often work overtime to keep residents comfortable. This means systems may be circulating pollutants such as dust, pet dander and pollen, which can make allergies worse and  .
On top of this, the area receives a moderate amount of precipitation throughout the year, causing high levels of humidity in the summer. This encourages the growth of mold and mildew, which impact indoor air quality and can make breathing issues worse. Having an electronic air cleaner installed in your home helps remove the irritants and allergens from the air, keeping your house a cleaner and healthier place to be.
With all the snowfall that occurs in Columbus during the winter, you'll probably spend most of your time indoors. This increases the risk of exposure to indoor air pollution, so having an electronic air cleaner can be one of the best investments you can make to improve your indoor air quality.
Frequently Asked Questions
What is an electronic air cleaner?
Having an electronic filter in your HVAC system removes particles from the air such as dust, pollen and other pollutants. The electronic filter generates an electrostatic attraction that captures and traps these particles in a filter, cleansing the air in the HVAC system.
How does an electronic air cleaner improve my indoor air quality?
By removing most of the pollutants that may be floating around in the air inside your house or business, you can experience significantly better indoor air quality. This enables you to breathe easier and avoid respiratory issues or allergies.
Do I need an electronic air cleaner if I already have a regular air filter?
A regular air filter can capture a certain amount of airborne particles, but it may not be able to remove some of the smallest and most harmful pollutants. On the other hand, an electronic air cleaner is more effective at trapping these particles, so you have cleaner, healthier air.
Can I install an electronic air cleaner myself?
We don't recommend attempting to install one of these units on your own. It requires specialized expertise to make sure the cleaner functions as efficiently and safely as possible. Our trained technicians come equipped with all the tools and techniques needed for electronic air cleaner installation, so you can have peace of mind.
How often should I replace the filter in my electronic air cleaner?
It depends on how heavily you use your device and the quality of the air inside your home or business. We can work with you to determine the best electronic air cleaner maintenance schedule based on your specific needs and circumstances.
Will an electronic air cleaner reduce my energy costs?
Because these units remove so many particulates from the air, they help keep your HVAC system running as smoothly and efficiently as possible. This means you could save money on your utility bills because you won't need to run your heating or air conditioning as often.
How much does it cost to install an electronic air cleaner?
How much it will cost to install an electronic air filter in your HVAC system depends on a number of factors. These include the size and type of the device, as well as how complicated the installation will be. Our professionals can provide you with the most accurate quote based on your specific needs.
How long will the installation take?
The complexity of your installation will determine how long it will take. You can rest assured that our experienced technicians have all the knowledge and know-how to ensure the job will go as smoothly and quickly as it can.
Will an electronic air cleaner make a noticeable difference in my indoor air quality?
Yes — having an electronic air cleanse rcan make a significant improvement in the quality of the air inside your home or business.
Can an electronic air cleaner remove odors from my home or business?
Some electronic air cleaners are designed to remove odors from the air along with pollutants. We can recommend a device that fits your specific needs.
Having an electronic air cleaner installed in your home or business can be an effective way to improve indoor air quality. Choosing the right professionals to help you is just as important as choosing the ideal equipment, so reach out and contact us today for more information or schedule a consultation. We offer a wide range of air quality products and HVAC accessories to make your air cleaner and healthier.
Request an Appointment
All appointments will be confirmed by phone. Same day appointments not accepted via internet. For emergency service please call 614-405-7819.
NOTE: By submitting this form, your email address may be used for future marketing purposes from Columbus Worthington Air; however, your email address will never be sold to a third party. For more details, view our Privacy Policy.