AC Services in Columbus, OH
---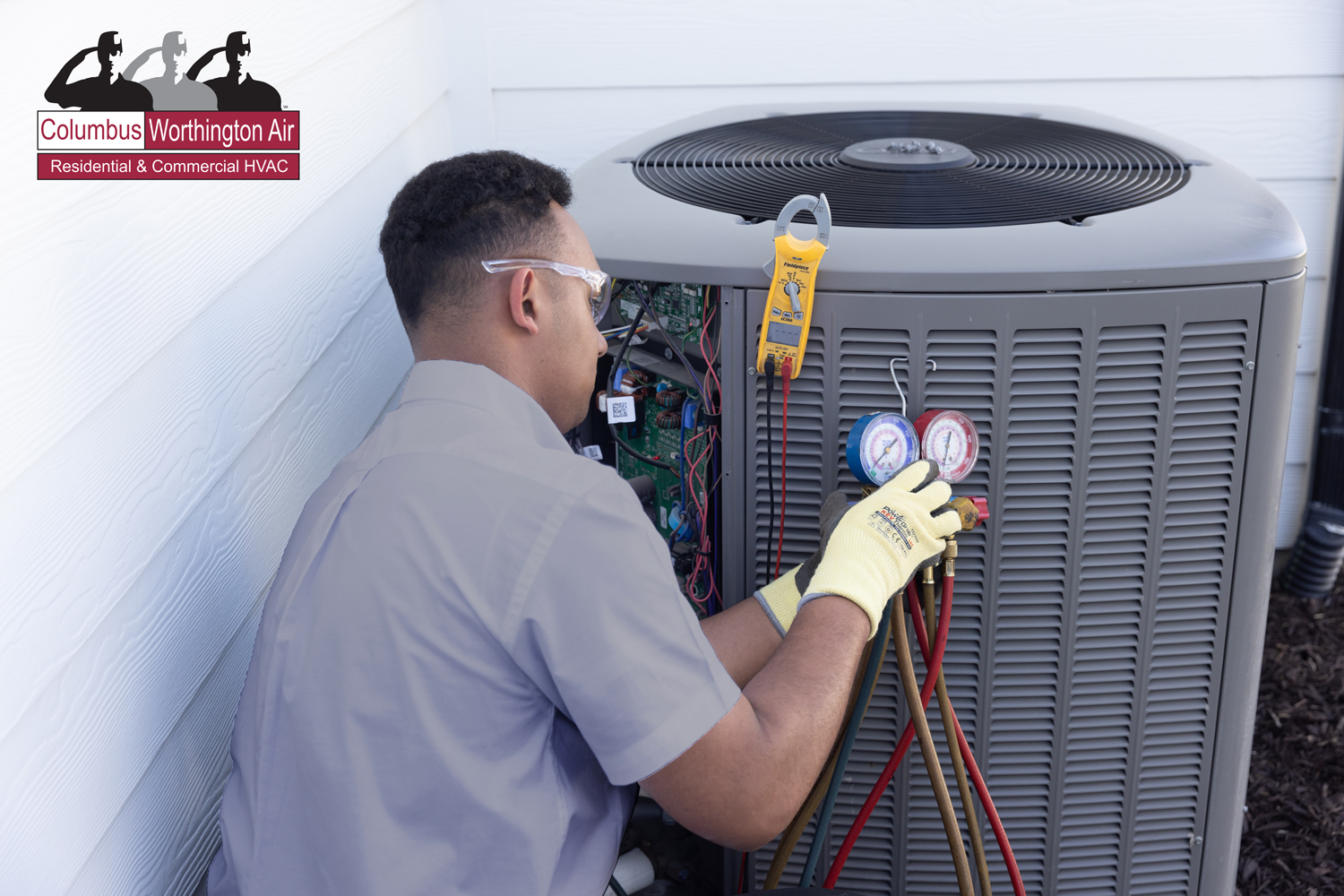 Columbus AC Repair and Service
At Columbus Worthington Air, we offer Columbus, OH residents a full range of high-quality services to meet your cooling needs, such as AC repair, installation, and maintenance, as well as emergency cooling repair. We will provide you with a system that is quiet and more energy-efficient, ensuring you're always comfortable. Our team of seasoned technicians are well-versed in all makes and models of modern units and have the training necessary to perform quick and knowledgeable AC service when you need it most. Gone are the days where you must wait through the night or weekend with a broken air conditioner.
We offer services seven days a week, 365 days a year, which includes holidays and emergencies. With tens of thousands of AC repairs under our belts, it's easy to tell why we have been Columbus's premier choice for AC repair since 1936.
Fast and Reliable Air Conditioning Services in Columbus, Ohio
For decades we have been dedicated to delivering unrivaled AC services to our Columbus, OH residents. Not only can we provide homeowners with simple repairs, but we can also help out with upgrades, inspections, or any questions you may be having regarding your residential air conditioning unit. Some of the comprehensive AC services we provide include:
Routine Inspections
Emergency AC Repair
 Let our fully-trained and friendly technicians find the air conditioning solution that suits your needs!
Does Your AC Need Serviced?
If you think your residential air conditioner is not working as it should, don't hesitate to reach out to the professionals at Columbus Worthington Air for fast and reliable AC repair services. Not sure if your system requires repairs? We get it! When you're not familiar with the ins-and-outs of air conditioning units, it's hard to decipher if there are any problems. While AC failures become pretty obvious once the heat and humidity begin creeping their way into your Columbus, OH home, there are other, more subtle signs that your system needs servicing.
Why You Should Hire Our Technicians for AC Repair Service
At Columbus Worthington Air, our technicians have the experience and knowledge needed to ensure that your air conditioner is in good working condition. It's tempting to go with a cut-rate, inexperienced technician (or even try to do it yourself) to save money, but it could cost you even more in the long term. You're not just risking an ineffective solution that leads you to call for repairs sooner than you'd expect. You might be damaging the equipment or shortening its lifespan. It's better to hire our AC company for service every time for the following reasons:
Poor installation of your AC system could decrease your output and efficiency by as much as 30%.
Faulty AC installation also contributes to a higher likelihood of repairs that keep getting more expensive each time you call.
Inexperienced technicians might not know how to evaluate your home for the right size air conditioning unit, leading you to make a purchase that provides ineffective cooling, inefficient moisture control or worse.
A bad installation can force your system to work harder and longer trying to maintain the right temperature, creating airflow problems and other issues.
Incorrect installation followed by incomplete repairs can cause your system to break down permanently, forcing you to replace it years sooner than you would if you hired our technicians for air conditioning service in the first place.
When you think about the alternatives, the choice is obvious. Our technicians are vetted to ensure that they have the right experience and demeanor to treat your home — and your AC unit — with proper care.
Call Columbus Worthington Air Today!
There's a reason that we at Columbus Worthington Air work so hard to provide comprehensive air conditioning service for our customers in Columbus, OH. We want you to know that you can call on us for any type of work for your air conditioner, whether you need installation, repair or maintenance. Our company culture reflects our dedication to great customer service and complete care for the lifespan of your AC unit. In addition, we also offer professional service for the following products, and we're happy to help you determine the best way to solve your heating and cooling concerns:
Our team is delighted to help answer your questions from the first moment of contact, whether you are asking about replacement or repair, upgrades, maintenance plans or financing. We focus on each customer interaction to ensure that you always come away from the service feeling like you are a priority. Don't sit in the heat wishing that you had an air conditioner that met your needs. For the air conditioning Columbus, Ohio, residents trust, contact Columbus Worthington Air to schedule an appointment today!
Request an Appointment
All appointments will be confirmed by phone. Same-day appointments not accepted via internet. For emergency service please call 614-405-7819.
NOTE: By submitting this form, your email address may be used for future marketing purposes from Columbus Worthington Air; however, your email address will never be sold to a third party. For more details, view our Privacy Policy.