Columbus Ohio's Leading Heating and Cooling System Replacements
---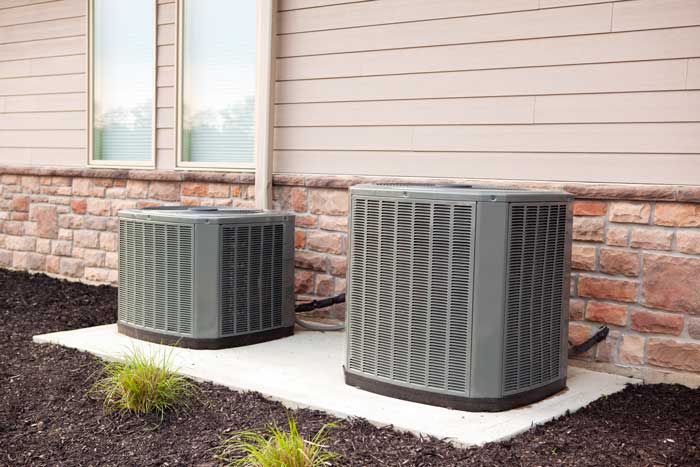 HVAC System Replacements
While regular maintenance and tune-ups can help prolong the life of your heating and cooling systems, sometimes you'll need to install a new system. Many problems can affect the performance of your home's air conditioning unit and compromise the quality of your home's air and energy efficiency. How can you know when you may need to replace your heating or air conditioning unit?
Your air conditioning or heating unit is over 10 years old.
Frequent breakdowns and multiple costly repairs have happened.
Your air conditioner or heating unit is failing to keep your home comfortable.
You've noticed poor airflow or circulation in your home.
There is water dripping from your air conditioning unit or pooling beneath the unit.
Your air conditioning unit constantly turns on and off.
Your air conditioning unit has a SEER (seasonal energy efficiency ratio) rating below 13.
If your air conditioner or heating unit isn't functioning properly, then your home's air quality suffers. You can also end up spending more money on energy costs. Columbus Worthington Air is here to provide the services you need to replace your ineffective air conditioner or heating unit and get your home environment back to normal. Whether you wish to install an air conditioner, air handler, heat pump, furnace, domestic water heater boiler, or any other type of HVAC system, we're here to help. In addition, we provide a number of services that keep your air conditioning system running like new and your home comfortable all year round. We proudly serve the greater Columbus, Ohio area, as well as Delaware, Dublin, East Columbus, Gahanna, Grove City, Hilliard, Huber Ridge, Lewis Center, and Marysville, among others.
Improving Your HVAC System
Upgrading your existing heating and cooling systems can go a long way in improving your home's air quality, and increase the lifetime and effectiveness of your units. By upgrading your heating or air conditioning unit, you can:
Increase the comfort inside your home and improve your family's happiness.
Make your home quieter.
Increase the property value.
Help protect the environment through better efficiency standards.
Put money back in your pocket as a result of energy bill savings.
Improve your house's overall air quality and alleviate your allergies.
Cool and heat your home more quickly.
We offer free in-home consultation that will give us a better understanding of your specific HVAC system and help us figure out the best way to improve or repair it. Whether it's a simple fix, or a total heating and cooling replacement, our team is ready to help you get a more comfortable home.
Upgrading your heating or air conditioning unit can improve your family's comfort and help your home be more efficient. Call the experts at Columbus Worthington Air. We offer free estimates and are proud to provide HVAC replacement in the Columbus, OH, area.
Get Your Free HVAC Estimate
Columbus Worthington Air can guide you through the decision-making process. We provide a free estimate on all new replacement systems and information regarding repairs for your current heating or cooling unit.
When you work with us, you can be confident that we will provide you with exceptional service, including prompt HVAC installation and repairs. You can't spell trust without us!
Contact us at 614-902-3358 if you are ready to upgrade your system!
Why You Need Professional HVAC Installation Service
Installing or replacing your existing HVAC system is a complicated and potentially dangerous job that should best be left to the professionals. Without the proper level of experience and training, do-it-yourselfers are risking serious safety hazards, expensive mistakes, and damage to their equipment. Here are some of the best reasons why you need to call Columbus Worthington Air for expert heating and air installation:
Safety — HVAC systems consist of electrical, gas, and refrigeration elements. If they are not handled properly, they can lead to serious dangers including electrical shock, gas leaks, or refrigerant leaks. When you work with us, you can rest assured that our technicians have all the tools and expertise needed to install or replace your equipment in the safest possible manner. We make sure all connections are made correctly and will remain secure while your system is in operation.
Efficiency — Having the right system for the size of your home and installing it correctly is essential for it to operate as efficiently as possible and provide maximum comfort. Our experts are here to help you choose the right size and type of system for your home or commercial property and install it according to industry standards and manufacturer requirements. This means you will save energy, spend less on utilities, and enjoy longer equipment lifespans.
Expertise — Keeping your system in good shape means having experienced professionals like us who know HVAC equipment as completely as possible. We can help troubleshoot and diagnose any issues and resolve them. Our experts also offer advice and recommendations to keep your system properly maintained and in good working order.
Replacing an HVAC system is far from a DIY project. When you put your trust in our professionals, you can be certain your equipment will be installed safely and efficiently so it will be there when you need it. Get in touch with us today to schedule an appointment with one of our licensed and experienced technicians.
Keeping Up With the Climate in Columbus
Living in Columbus means experiencing warm, muggy summers and cold, dry winters. This kind of climate can be especially hard on old and worn-out HVAC systems. As a result, you might suffer from reduced efficiency, higher energy bills, and a shorter equipment lifespan.
Although the amount of snow that falls during the winter is relatively light, the city still is subject to occasional bout of severe weather typical for the Midwest. This can include blizzards, ice storms, and floods. Spring, summer, and sometimes fall can bring severe thunderstorms with lightning, hail, and tornadoes. Any of these can cause damage to your HVAC systems.
Working with our professionals to replace your HVAC system means you can enjoy comfort year-round and experience better energy efficiency.
Frequently Asked Questions About HVAC
Why should I call Columbus Worthington Air for HVAC expertise?
Our experts know what it takes to install, replace, and repair HVAC systems properly, ensuring your system will continue to work well and save you money.
Can I install my new HVAC system myself?
Installing an HVAC system requires a lot of experience and specialized knowledge. We don't recommend you install your own system no matter how handy you are, because any mistakes can be costly and dangerous. Working with us means you can be sure the work will be done right.
How often will I need to replace my HVAC system?
In general, most HVAC equipment can last up to 10-15 years with proper care. However, the lifespan of your system depends on its usage, its initial quality, and how well it is maintained. We can evaluate your current system and give you recommendations for replacement based on your needs.
What are the benefits of upgrading my HVAC system?
Upgrading gives you a number of benefits, including increased energy efficiency, lower energy bills, improved indoor air quality, and greater comfort overall. We have the expertise needed to recommend the best system for your needs and budget.
How long does it take to install a new HVAC system?
It depends on a number of factors, including the size of your home and the complexity of the system. We will provide you with an estimated installation time and schedule it at the most convenient time for you.
How often should I have my HVAC serviced?
If you want your system to last as long and perform as well as possible, regular maintenance is the key. We recommend scheduling an appointment with our technicians at least once a year so your equipment will run smoothly for as long as it can.
What are the warning signs that I need HVAC repairs?
Some of the most common indicators of HVAC trouble include strange noises, uneven heating or cooling, higher-than-expected energy bills, and poor indoor air quality. We can diagnose your issues and provide the repairs needed to restore proper functionality.
Can you help me choose the right HVAC system for my needs?
Absolutely — our experts will take a close look at your home's size, climate, and energy efficiency goals and suggest the ideal system for your needs and budget. There's a lot to consider when replacing your HVAC, and we can help.
How can I improve the energy efficiency of my HVAC?
Regular maintenance, upgrading to more efficient equipment, installing a programmable thermostat, and sealing any air leaks will make your system function more efficiently. Our experts can help you achieve greater efficiency.
Contact Columbus Worthington Air Today
When you need to upgrade your HVAC system, Columbus Worthington Air is the best place to call. We have a professional team of technicians providing reliable and efficient heating and central air installation services to keep you and your family comfortable throughout the year. We can help you with every aspect, from choosing the right equipment to expert installation to regular ongoing maintenance. Through it all, we remain dedicated to providing the highest levels of customer service and professionalism. Experience the benefits of a new HVAC system for yourself by getting in touch with us and scheduling your first appointment today. We serve the entire Columbus metropolitan area, including communities such as Amlin, Dublin, Hilliard, Powell, Upper Arlington, Westerville, and more.
Request an Appointment
All appointments will be confirmed by phone. Same day appointments not accepted via internet. For emergency service please call 614-771-7001.
NOTE: By submitting this form, your email address may be used for future marketing purposes from Columbus Worthington Air; however, your email address will never be sold to a third party. For more details, view our Privacy Policy.