Furnace Repair in Columbus, OH
---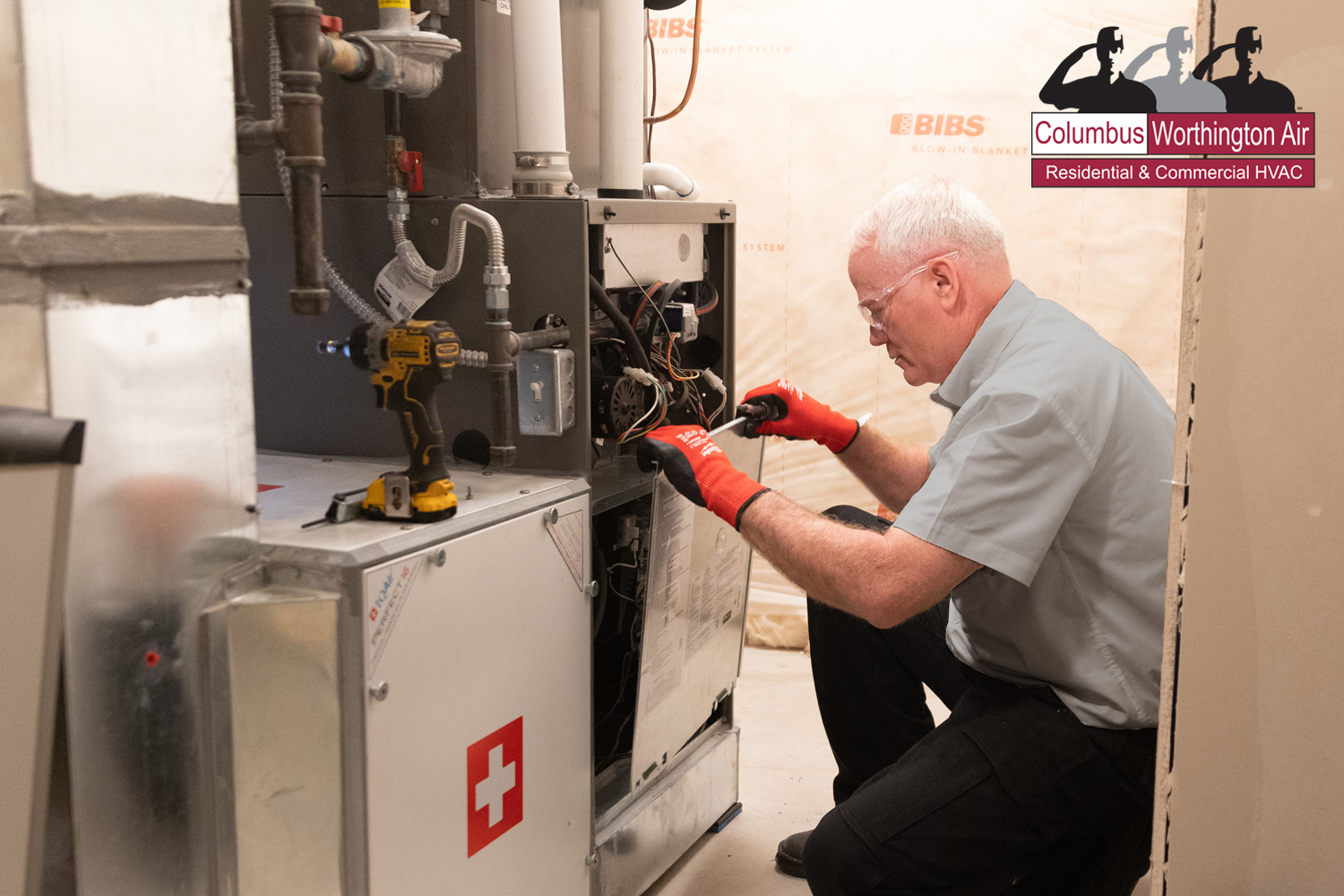 Complete Heating Repair by Columbus Worthington Air
Having problems with your heat? Since 1936, residents and business owners have relied on Columbus Worthington Air for fast and dependable air conditioning and furnace repair services. Our licensed, bonded, and insured HVAC company is dedicated to providing high-quality heating and cooling repair, maintenance, and installation services to keep the community comfortable year-round. All of our service technicians pass a pre-employment background check and drug test to provide peace of mind for our customers when our employees enter their property. Whether you need emergency furnace repair in Columbus, OH, or need to schedule an estimate for an HVAC installation, call us today!
The Importance of Proper Furnace Repairs
According to the U.S. Department of Energy (DOE), heating your home uses more energy and costs more money than any other appliance or system in your home. Because of this, the DOE suggests properly maintaining your heating equipment to help keep your energy bill as low as possible. Repairing your furnace when it requires attention will reduce the chance of having uneven heat throughout your home, seeing an increase in energy bills, or having to replace your furnace sooner than you'd like to. Our experienced team will accurately diagnose why your heating system is not working correctly and offer a reliable solution to get your heat back on track. For additional coverage, ask about our preventative maintenance plans. Having your furnace serviced annually by Columbus Worthington Air before winter is the best way to stay ahead of inconvenient furnace breakdowns.
Common Signs Your Furnace Needs Repair
Of course, the most obvious sign that your furnace needs repair is if you turn up your thermostat and your house doesn't get warm. However, even if your furnace is generating heat, there are other common signs that your heating system may need help from a qualified heating repair company, such as:
Spotty Heating: If you have some rooms that are warm and some that cold, you could have issues related to ductwork such as a leak or blockage. It could also mean that the furnace is not large enough to heat the whole house.
Weak or No Airflow: When the furnace is running, but you're getting little to no air coming out of the vents, this is usually a sign that your furnace blower motor needs repair.
Strange Noises: Various parts of your furnace can loosen over time, such as belts or ball bearings, that cause noises like rattling or grinding. If you suddenly notice new sounds coming from your furnace, call us for an inspection.
High Energy Bills: A sudden increase in energy bills, especially when weather and temperatures remain consistent or in the expected range, can be a sign that your HVAC system may need repair.
Age of the Furnace: If your unit is more than 10 years old, repairs may become more frequent as the internal parts start to wear down or malfunction.
Is Your Furnace Blowing Cold Air or Not Working Properly?
While it's relatively easy for homeowners to notice the signs that their furnace isn't working quite as it should, the reasons why can be a little more complex. We won't know for sure what the exact problem is until our trained and licensed heating repair service experts can adequately assess the heating unit, but some common reasons why your furnace might not be working are:
Clogged Condensate Line: If your furnace is blowing cold air, your condensate line could be backed up with dirt, grime, or ice. A blockage will shut off the furnace to avoid further damage. If the furnace isn't generating heat, the air coming out of your vents will be cold.
Clogged Filters: Furnace filters keep the air and ductwork clean. Over time, they get clogged with dirt, allergens, and pollutants that result in poor performance.
Ductwork Maintenance: Dirt buildup or leaks anywhere in the ducts will reduce heating capability. Ducts need to be cleaned periodically, and leaks should be sealed so airflow cannot escape.
Faulty Furnace Blower Motor: When the furnace blower motor goes, then little or no airflow will be coming out of your vents, making your furnace work harder to try to meet the thermostat temperature.
Schedule Your Furnace Repair with Licensed Professionals
As you know, Ohio's winters can be brutal. The coldest temperature on record in the state was minus 39 degrees, which was recorded on February 10, 1899. At the time, this was the coldest temperature for the entire contiguous United States. When it comes to more recent times, a 1994 cold snap resulted in temperatures as low as minus 32 degrees in Cleveland and minus 34 degrees in Toledo.
This just goes to show how important it is to have a furnace that works. A functioning heating system is crucial for your and your family's comfort, so make sure your heating system is kept in good condition.
Your furnace should be capable of providing you and your family with years of reliable heat when properly maintained. Like any appliance, they do require repairs as components need to be fixed or replaced over time. Columbus Worthington Air offers inspections on your HVAC equipment, where we check the vital parts at the beginning of the season to stay ahead of repair issues. You can learn more about special savings offers here. If you do find yourself needing a furnace repair company, we are here to answer the call, even in the middle of the night. Have you had a recent estimate on your furnace, and you need a qualified second opinion? We're glad to do that for you too. Give us a call or fill out our contact form to schedule your heating system repair today!
Request an Appointment
All appointments will be confirmed by phone. Same day appointments not accepted via internet. For emergency service please call 614-405-7819.
NOTE: By submitting this form, your email address may be used for future marketing purposes from Columbus Worthington Air; however, your email address will never be sold to a third party. For more details, view our Privacy Policy.