Generator Services in Ohio
---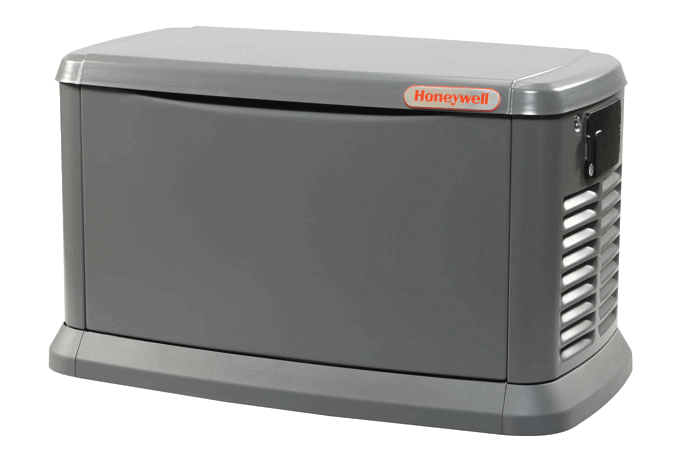 Professional Generator Installation and Maintenance
Columbus Worthington Air installs the highest quality backup generators from Honeywell. Don't be left in the dark; protect your home and your family's belongings with a residential standby generator. With many size options, we can provide generator installation in Columbus, OH to handle any emergency electrical event.
Types and Benefits of Automatic Standby Generators
A standby generator also called an automatic start generator, is your home's backup power source in the unfortunate event of an electrical failure. The machine is set to passively monitor the home's power, activating its switch almost immediately when it senses the primary energy source has been turned off. It will then transfer the power back once the primary source is returned, so there is no need to brave the cold and turn it on manually.
Generator Sizing Options
Our automatic home generators are classified according to wattage, in sizes of 10kw, 12kw, 15kw, and 20kw. The size you require depends on the size and needs of your home. You may consider the 10kw generator enough to keep necessities like the refrigerator, freezer, and any electricity-controlled plumbing active while you wait for a power issue to get sorted. Or, you may require a 20kw generator if you work from home and can't afford to have your communications devices go down for an extended period. Four-bedroom homes will require more power than two-bedroom homes. Of course, we'll work with you to calculate the best option for your specific needs based on our professional experience.
Why Do You Need A Generator?
The cold winters of Columbus, Ohio, are no stranger to inclement weather, and no family should have to face the cold without a reliable source of heat if the power goes out. In the event of a powerful storm that leaves power down for an extended period, the risk of spoiling food in the fridge and freezer becomes an extra inconvenience on top of the genuine threat of the cold.
An automatic house generator provides peace of mind against events that may cause your home to lose power, natural or otherwise. This is even more important in modern times when everything runs with machines. Being stuck inside during a blizzard is no fun, but it's especially grueling with uncharged cell phones and no television. Some devices that run on power, like CPAP machines and respirators, are much more serious.
Automatic Standby Generator Installation
You need only select a generator that suits the needs of your home, and we'll handle the rest. A non-intrusive installation and verification of working order follows, where we ground and connect the generator, and then ensure all necessary safety protocols are in place before we consider the job complete.
Contact Us Today for Information About Automatic Generators
Don't wait until you're sitting in a dark and cold home to think about buying an automatic standby generator. Contact us via email, phone, or live chat and we'll be happy to walk you through the details of home generator installation.
Frequently Asked Questions
What is a standby generator?
A standby generator is a backup power source that turns on automatically whenever your home experiences a power outage. Powered by natural gas or propane, it is installed outside your house.
Why should I consider having a generator installed?
Having a backup generator means you won't have to worry about keeping your lights and appliances on during an outage. This is important for protecting your home and everything in it from being damaged or spoiled, especially in areas where power interruptions are common or last for a long time.
How does a standby generator work?
The unit monitors the electricity supply to your property around the clock. If it detects an outage, it will start up automatically and send power to your home through a transfer switch. When power from the grid is restored, the generator turns itself off and returns to standby mode.
Can I install a standby generator myself?
We do not recommend trying to install one of these units on your own. The process is complicated and potentially dangerous without the right expertise. It's better to contact a professional generator installer like Columbus Worthington Air to handle this type of work because we have the experience and equipment needed to ensure everything is done safely and according to code.
What kind of maintenance will my generator require?
Regular maintenance provided by a professional standby generator service ensures your unit will be there when you need it. Typical tasks include changing the oil, replacing the filter, checking the battery and performing general inspections. You should get in touch with us at least once a year to provide comprehensive residential generator services.
How long will a standby generator last?
With proper home generator service, one of these generators should last for many years, although the exact lifespan of your equipment also depends on how often it is used.
What size unit should I get for my home?
Choosing the right system for your house depends on the size of your home, the number of appliances and electronics you need to power, and your general energy consumption habits.
Will a generator improve the value of my home?
One of the main benefits of a standby generator is that it can increase the resale value of your property. This is especially true if you live in an area where power outages are frequent.
How much does installing a standby generator cost?
How much you'll spend on a new generator depends a lot on the type and size of the unit you choose. You'll also need to consider the complexity of the installation and the price of labor in your area. Contacting our experienced professionals is the best way to get the most accurate estimate for your property's specific needs.
How often should I run my generator to keep it in good condition?
We recommend running your generator for 10 to 15 minutes each month to ensure the battery remains charged and it stays ready to operate in the event of a power outage.
Request an Appointment
All appointments will be confirmed by phone. Same day appointments not accepted via internet. For emergency service please call 614-405-7819.
NOTE: By submitting this form, your email address may be used for future marketing purposes from Columbus Worthington Air; however, your email address will never be sold to a third party. For more details, view our Privacy Policy.